---
Hey, digital champs!
Got a website? Awesome! But here's the deal: you're missing out big time if it's not mobile-friendly. Google's priority.
Welcome to my Mobile SEO Best Practices guide – I'm all about mobile optimization, responsive design, mobile-friendly content, and Google's mobile-first indexing.
There is no jargon, just easy steps to boost your site's mobile game.
Imagine this: people find your site on their phones, but it's a mess. They bounce. Ouch!
Am I making it complicated? Should I explain easily?
Stick with me; let's make your site shine on those small screens.
Ready to dive in?
The Importance of Mobile SEO
Okay, Google is all about mobile-first indexing. What's that, you ask?
Well, it's Google's saying, "Hey, we're going to crawl and rank your site based on how it performs on mobile devices first, and then we'll consider the desktop version."
Why's that important? Let's take a look at some data:
Mobile internet usage has skyrocketed. Nearly 56% of all internet traffic now comes from mobile devices. That's many people swiping, tapping, and searching on their smartphones.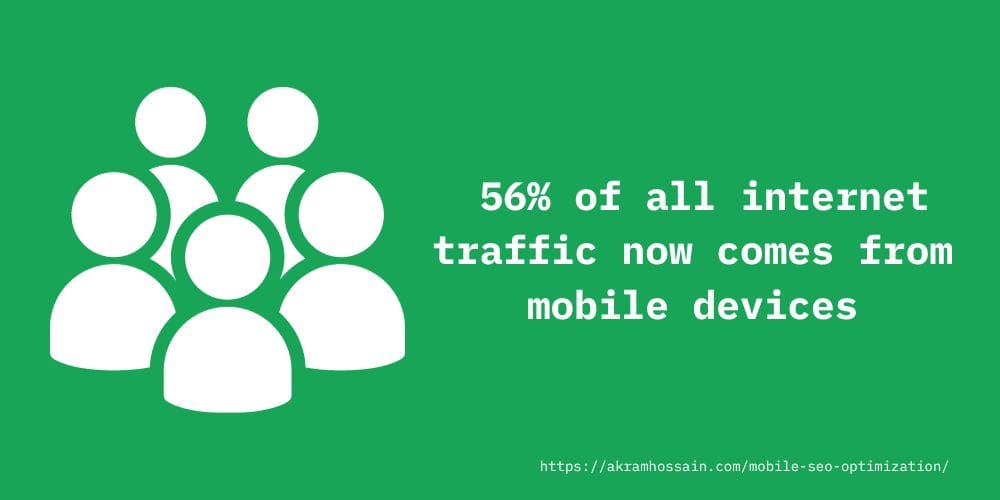 No wonder you are also reading this blog using your smartphone, right?
Here's the kicker: When someone searches on their mobile, Google is more likely to show them
mobile-friendly sites.
Just think about that: you are browning my site, and it's not loading properly, even if you couldn't load and navigate it, and you are now frustrated. It's a really common scenario from the point of view of a user.
Losing traffic due to your website's responsiveness and proper optimization is a complete digester for you. Optimizing your website is in your hands.
User Behavior on Mobile Devices
Now, let's talk about how users behave when they're on their mobile devices. It is where the rubber meets the road in mobile SEO.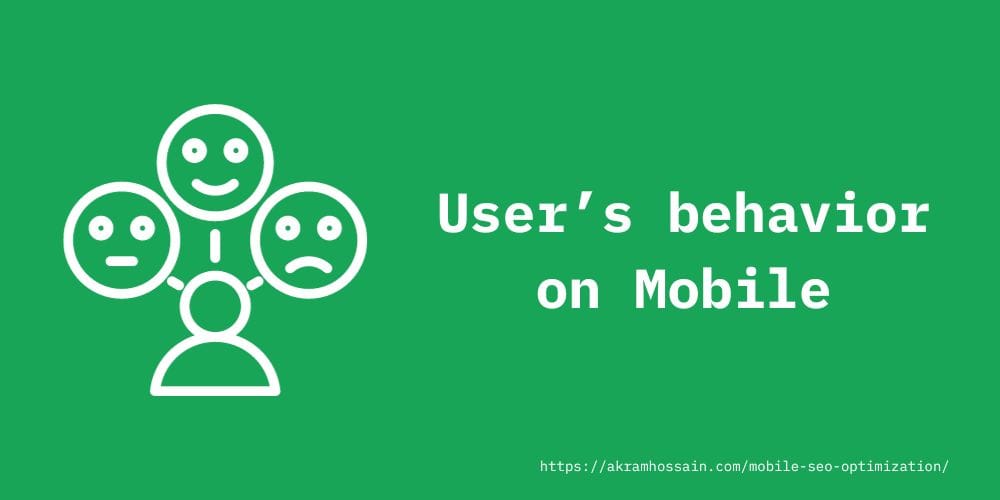 Mobile users are often in a hurry. They want answers fast. If your site takes forever to load or isn't easy to navigate on a small screen, they'll bounce off faster than you can say "mobile optimization."
Seems funny, but it's true. Compared with your real-life experience, it will show you the reality.
Mobile search is often a local search. People use their phones to find nearby restaurants, shops, and services.
If you're a local business, having your site mobile-optimized is like putting a neon sign on your digital storefront.
Here, user experience matters. Mobile users are looking for a seamless, enjoyable experience. If your site is clunky or hard to use on mobile, it won't make a good impression.
Late things are not always for pleasure. It can ruin.
Speed Up Your Mobile Site
Now, why does speed matter so much for mobile users? Well, let's break it down with some hard-hitting mobile user data:
Lightning-Fast Pages Are a Must For Mobile
You know that feeling when browsing on your phone and a website takes forever to load? It's frustrating, right? Guess what, you're not alone!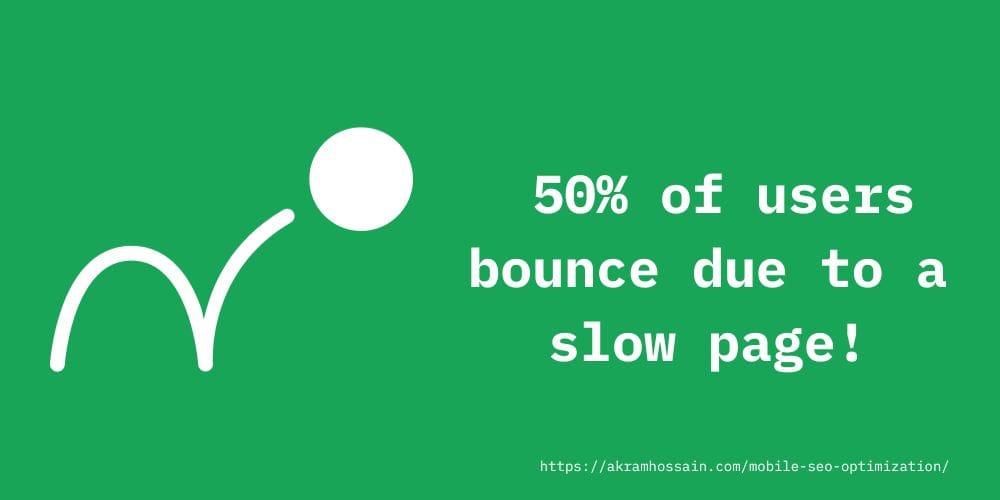 Studies show that over 50% of users will bounce off a site if it takes more than three seconds to load on their mobile device.
Three seconds! That's all the patience we've got in this fast-paced digital world.
As everyone is not using desktop and mobile devices, you can't ignore the small device's audience.
Remember, your website is always beautiful on desktop but shows the real beauty on mobile. That's the challenge.
Mobile Site Need Speed
Mobile devices, especially smartphones, have smaller screens and less processing power compared to your trusty desktop.
So, optimizing your site for speed on these tiny powerhouses is a must.
Mobile users expect websites to load just as fast as they do on their computers, even though their devices have limitations.
Can't blame them! They want information, and they want it NOW.
Optimizing for Mobile Speed
So, what can you do to make your site zoom on mobile?
Let's optimize in simple ways;
Optimize Images:
Huge image files can be a drag. Compress them without losing quality to speed things up. There are tons of image optimization tools out there, so no excuses!
If you are using WordPress, you may use different types of plugins or websites for compression, such as;
And similar plugins will help you to compress your image. Also, you can compress it before upload, and if you use their WP Plugin, then it will help you to compress automatically after upload.
Minify Code:
Reducing the size of your website's code can be like cleaning out your closet. Get rid of all the unnecessary stuff, and your site will run smoother.
Using caching plugins, you can minify unnecessary codes, such as CSS and JavaScript code, that help to boost your website's speed.
Those tools provide "minify code" options to reduce your page loading time and make your site faster for mobile.
Use Browser Caching:
Caching saves some parts of your site on a user's device, so they don't need to reload everything every time they visit. That's a time-saver!
From the "Minify Code" discussion, you can avail of the caching feature using those tools. And it's a saver option to make your site faster.
Mobile-First Content:
When crafting your content, think mobile-first. Short paragraphs, snappy headings, and easy-to-scan lists are your friends.
A boring and lengthy paragraph can't be user-centric, and they are unwilling to read it. What's the ultimate result?
They bounce!
Remember, fast and mobile-friendly websites make for happy users and better SEO. Keep your site speedy with friendly content.
Google's Mobile-First Indexing
It's time to dive into the nitty-gritty of this mobile SEO phase, and one of the biggest players in this game is none other than Google. (I call it with love, my mama [maternal uncle])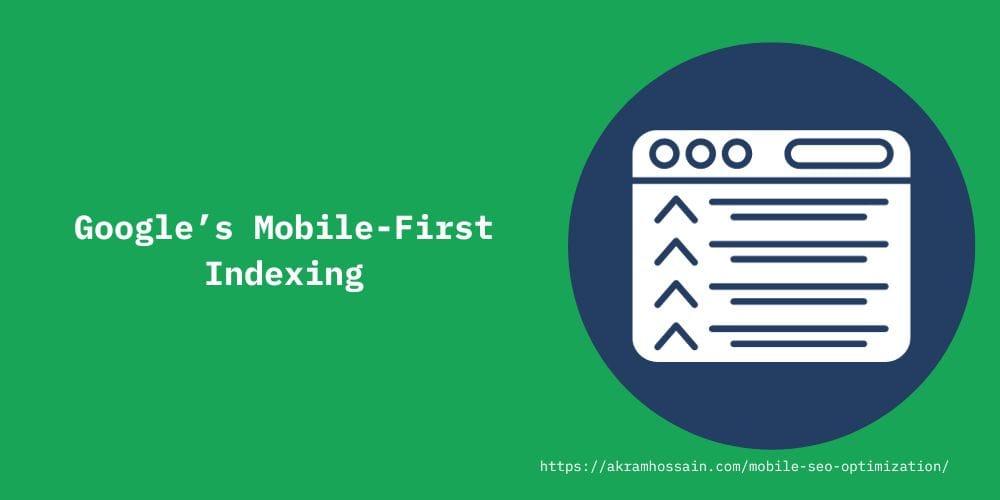 They've rolled out something called "Mobile-First Indexing," and you need to know what it's all about.
Here, they rolled out some common and essential facts;
Create Mobile Friendly Site
Site Accessible For Google
Same Content In All Devices
Optimized Website Structure Data
Optimized Same Meta Data For All Devices
Ads Placement
Content Visual
Separated URLs for Different Languages and more
Recently (31 October 2023), Google has announced that the Mobile-first indexing has landed.
They declare that from now most of the websites will be crawling for mobile devices unless you are blocking mobile crawling by robots.txt.
Also, Google removing crawling data from the Search Sonsole as this information isn't necessary anymore.
Understanding Mobile-First Indexing
So, what's the deal with this Mobile-First Indexing thing? Well, it's Google's way of saying, "Hey, mobile is where it's at!"
Traditionally, Google crawled and indexed the desktop version of websites to determine their ranking.
But now, they've switched things up. With mobile-first indexing, Google predominantly looks at the mobile version of your site when ranking it in search results.
Mobile-first indexing is the first priority for Google.
Why does this matter? Because it reflects how most people access the internet these days—on their phones and tablets.
Google wants to ensure that when someone searches on mobile, they get results that work well on their devices.
If your site isn't mobile-friendly, you might miss out on some sweet search engine love. Also, you would lose traffic as well.
Preparing for Mobile-First Indexing
Now that you know what it is, how do you prepare for Mobile-First Indexing?
Let me tell you the shortest way;
Mobile-Friendly Design:
Tell your developer to make every portion responsive for mobile devices and ensure accessibility so users can interact with ease.
Optimize your website with responsiveness and navigation on mobile screens. People prefer to avoid pinching and zooming to read tiny text!
Speedy Load Times:
Mobile users are impatient (aren't we all?). So, optimize your site for speed. Compress images, minify code, and use browser caching to keep things snappy.
Structured Data:
Use mobile-friendly structured data markup. It helps Google understand your content better and can lead to richer search results.
Use proper breadcrumbs, titles, page headings, paragraphs and other similar things that make your site engaging and user-friendly.
Content Consistency:
Keep your mobile and desktop content consistent. Don't hide important stuff on the mobile version or serve different content to mobile users.
Don't remove or add any extra content based on specific devices; it may be considered spammy by Google.
If Google's AI thinks you are giving backdoor content, you may get penalized for ranking. Stay consistent with helpful and quality content.
Mobile SEO Tools and Resources
Now that you've learned about the ins and outs of mobile SEO best practices, let's talk about the tools and resources that can supercharge your mobile SEO game. 📱
Don't forget to count me in.😜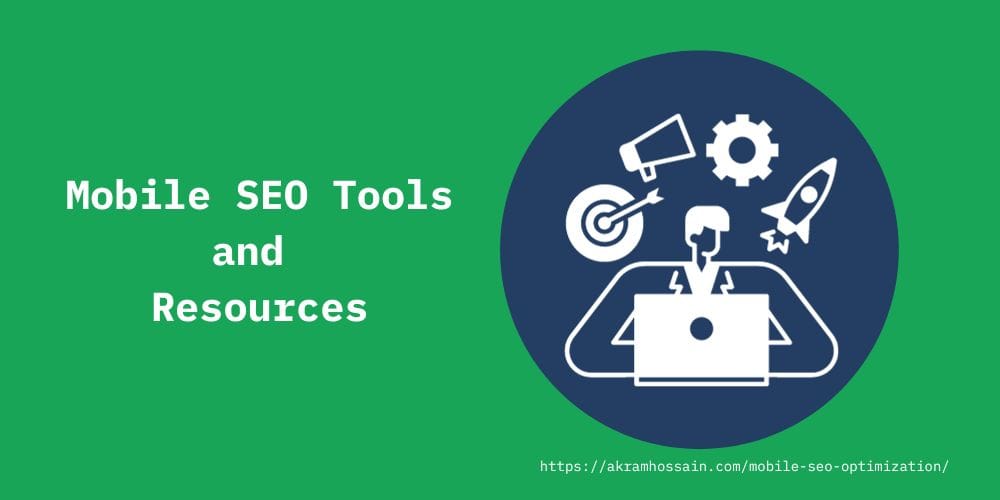 Mobile SEO Audit Tools
So, you're eager to see how your website performs on mobile. Well, you're in luck because some nifty tools can help you. It might be free or paid.
Plus, it'll give you suggestions on how to improve Mobile SEO-Friendlyness.
PageSpeed Insights by Google is another gem. It'll analyze your site's speed on both mobile and desktop and offer suggestions to make it faster. Speed matters, my friend!
These two are completely free and powered by Google, so you can rely on these tools' metrics and suggestions.
Mobile SEO Blogs and Communities
Knowledge is power, and staying in the know is crucial in the ever-evolving world of SEO. You know, SEO is a dynamic field, and you have to keep up to date with SEO knowledge, Google algorithm updates, and relevant knowledge.
Luckily, some awesome resources are out there to help you do just that;
Ahrefs blogs and weekly newsletters are currently making effective ways to share updated SEO insights and articles helpful for SEOs.
Moz Blog is a treasure trove of SEO wisdom. They cover mobile SEO topics in-depth, and their Whiteboard Fridays are legendary.
Search Engine Journal is another great spot for staying updated. They have a dedicated section for mobile SEO where you can find tips, news, and insights.
Also, you can read their weekly or daily blogs to keep yourself up to date with your project or client project.
Industry Experts and Thought Leaders
Want to follow the brightest minds in the world of mobile SEO? These experts are worth keeping an eye on:
John Mueller (X: @JohnMu) is Google's Webmaster Trends Analyst. His tweets often contain nuggets of SEO wisdom and updates on mobile-first indexing.
Cindy Krum (X: @Suzzicks) is a mobile SEO maven. Her insights into mobile search trends are pure gold.
Remember, learning from the best can save you time and keep you ahead of the SEO curve. 📈
With the right tools, resources, and experts by your side, you're well-equipped to conquer the mobile SEO landscape.
Conclusion
I have covered a lot of ground in this journey through the world of Mobile SEO Best Practices.
It's time to sum it all up in a nutshell.
So, why does mobile SEO matter? Well, think about it – we live in the mobile-first era, where most people are glued to their smartphones.
Google knows this, and that's why they're prioritizing mobile-first indexing. Your website's ranking on search engines could depend on how mobile-friendly it is.
Responsive Web Design
Page Speed Optimization
Mobile-Friendly Content
And let's remember our buddy Google and its mobile-first indexing. It's not something to be scared of; it's something to be prepared for.
Get your site in tip-top mobile shape, and you'll be in Google's good graces.
Until next time, happy optimizing! 📱💻🚀