It's the big question for someone who started their blogging journey or starting a new online business.
If you are one of them, you should read this blog to understand the difference between Title and Meta Title.
Look, if you notice the search result page of Google or other search engines, you should see that they are basically not the same.
Even if they aren't similar in some cases, let me explain.
First, let's have a look at some basic things that you should know about it;
What is the Title Tag?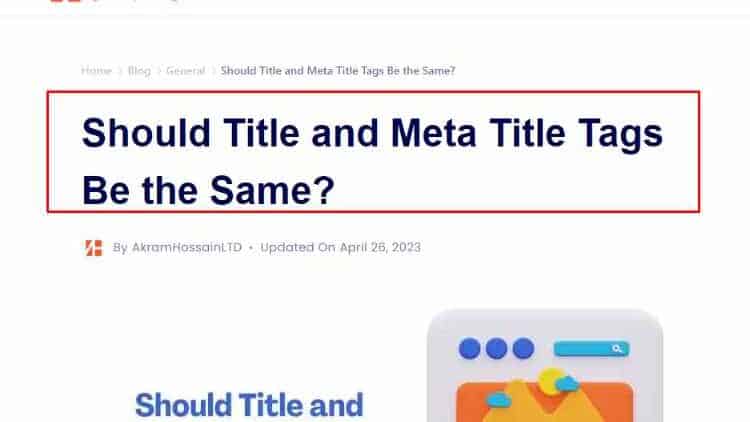 The Title or Heading is the same thing as a blog post, content, or news article; even you can see the "Are Title & Meta Title Not Same? Should be same?" title of this content.
Title HTML Code:
<title> This is a Title </Title>
This is the compulsory HTML tag you must add to every webpage; without <title> tag, Google and other search engines will consider it an invalid page.
When you are reading the Newspaper, you notice the news heading from the front page. This is the title or heading, whatever you called.
Here, we are not concerned about others; we only focus on SEO-friendly titles or meta-title differences.
The title is the common thing you must place on your blog post with H1 Tag.
SEO-friendly content is required to use only one H1 tag on a web page with a title or heading.
If you inspect this page, you can see only the Title contains an H1 tag, and the other heading starts from H2 tags.
Why do we use only the H1 tag for the title?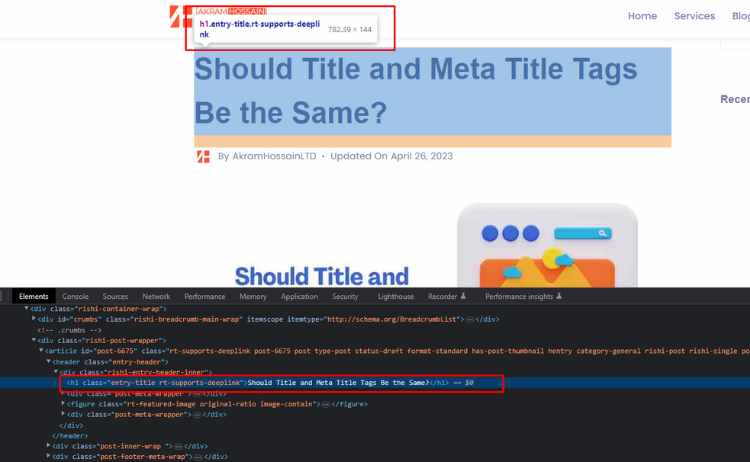 The title is the head of a content or blog post, and we all know the head should be one for each thing.
Similarly, SEO is required to use only one H1 tag on a web page with a title that passes the single to search engine crawler that this is the title, and they should consider this web page based on this title or heading.
So, you should not use multiple H1 tags on the same web page, or even you can leave any page without a minimum of one H1 tag.
Hope you are clear now about using the H1 tag on your website.
Is Title tag important for SEO?
Google and similar search engines recommend using a Title tag on your content. It should be a content page or blog post.
When search engine crawler crawls your website, they will pick the title and measure your content with the title tag.
You should not use any fishy or funky title that doesn't provide any value to the readers or your audience.
First, impressions will go through your Title tag that you should be attractive, and the user should understand the concept of your content by reading the title.
From the search engine to users, everything will focus on your title first; then, you will consider the reading of your content.
It visually indicates that you have to focus on your title tag for search engines and users.
The title tag should be relevant and informative, grabbing your user's attention to read your next passage.
Now, let's move on to the meta title tag or heading.
What is the Meta Title Tag?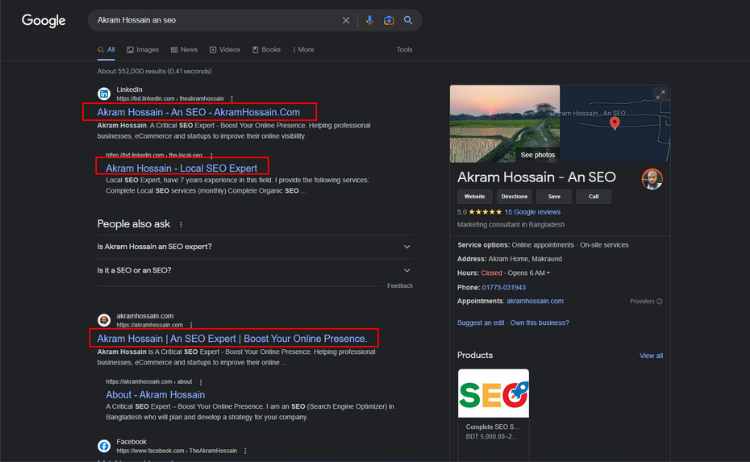 The meta title tag is a heading of a web page that appears only on a search engine result page (SERP).
Meta Title Tag HTML Code:
<meta name="title" content="Page Title">
This tag isn't compulsory, but the best practice is always to use a meta title tag. Otherwise, Google will pick random words to show in SERP.
The web page allows you to use different meta titles for a web page or blog post. Even most of the time, we all use different meta titles.
Example:
Title: "It's an example of a title – The best way to Get Success"
Meta Title: "It's an example of a title – Best Way to Get Success – AH DiGi"
If you notice, you can see the difference between them, and here I added something extra that only appears on SERP.
I added my Brand Name and some extra prepositions in the Meta Title.
When visitors see the title on SERP, they will click on it. They will only use the title of that content.
They won't see the Brand Name they saw in SERP.
Where do you edit your meta title tag?
If you are using a WordPress website, you will get some popular plugins to manage your On-Page and Technical SEO issues.
We recommend using RankMath, Yoast SEO, and All In One SEO.
But Yoast SEO and RankMath SEO plugins are the most popular for WordPress users.
You will get the full options to edit your title, meta title tag, description, and other SEO settings.
If you manage your website with custom CSM, you should ask your developer to edit your SEO meta title and description.
Importance of Meta Title Tag
You can't index your content on search engines without a meta title and description. It will return a Meta Title Tag missing error, which you must fix.
Think logically when someone searches a keyword and what they will see in the SERP.
They won't see your title and paragraph content; instead, they will see your Meta Title and Description.
If you don't impress your users, they won't click on your title, and you lose traffic.
First, your title and description are the main attractive part of your web page.
So, you can't miss the title that falls down your traffic.
Should Title and Meta Title Tags Be the Same?
In short, you should keep them the same as we discussed above the reason behind it. It should differ from them.
You can't add your Brand Name in the Title of any content, but you should add your Brand Name in the meta title tag.
Not only the Brand name but also you can add something special that you only want to display to SERP and make more attractive.
Using different meta title tags, you can create a smooth and attractive title for your new visitors that impacts new visitors who will see an attractive meta title.
But you cannot use any fishy or irrelevant meta title tag that manipulates visitors.
Most of the time, you will see that Google has changed your meta title and description if they think it is irrelevant to your content.
So, it's not 100% in your hand, but you can provide your command to use by default.
Conclusion
The final key takeaways for using Title and Meta title tags are that they shouldn't be the same, and you should keep them relevant and informative.
Using the title of a blog post or web page, you should focus on your content.
Combining your whole content, you should make an attractive title tag that allows the audience to read your paragraph.
Different things come to the meta title tag, where you should add your brand name and another key phrase to make a difference from your competitors.
I always recommend you use relevant and informative title and meta title tag that impacts your content and audience.
Google always prioritizes potential and informative content. You should follow their rules.