Gmeet is the most popular meeting management platform by Google. And Zoom is another American Software company product that provides high-quality video communication.
From individuals to marketing agencies, everyone is using Gmeet or Zoom to manage their client's meetings and official meetings via the internet.
After COVID-19, online meetings have become the most useable and well-known term in the world, with everyone working from home and managing their office work.
Now, I'll tell you which you should use to manage your client and other officials' meeting that boosts your productivity and enhance your communication experience.
Google meet Overview
Gmeet means Google Meet; from the word, you can understand that It's made for meetings, and globally, it's the most popular free meeting management platform.
On March 9, 2017, Google released Google Meet, providing a freemium license for everyone to use for their basic to advanced meetings.
Participants: Gmeet (Formerly Google Meet) allows you to make a quality video and audio conference with up to 250 participants.
Most of the time, if you are an individual, then you don't need to purchase its premium version, but for bulky conferences, you need to upgrade to the premium.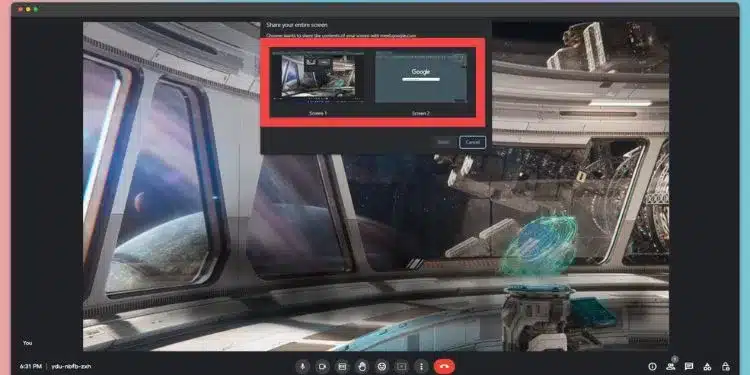 Screen sharing: This is the most important feature of any video communication platform, and luckily you can share your screen with Google Meet.
In a video conference, you can share your screen with a single window, full screen, or specific page that makes your video presentation effective.
Virtual Backgrounds: If you don't want to share your face or background with your audience. Gmeet provides a vast number of visual effects that helps you to make your background more attractive and eye-catchy.
You can use your custom brand background or use blurry effects to make your meeting more professional.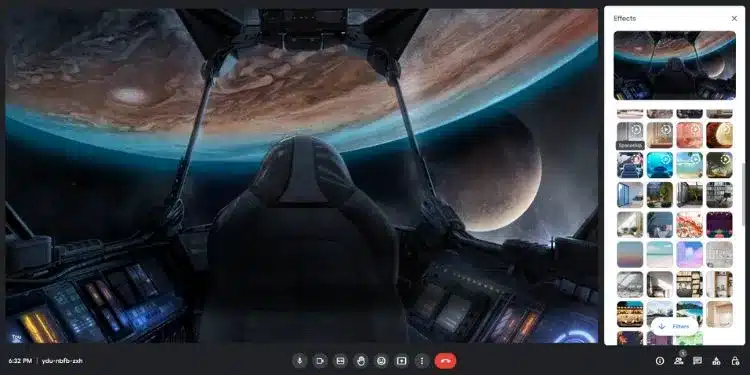 Recording and saving meetings: If you are a course seller or teacher, you should save the whole class further.
Your students and rewind your class if they miss in some way. But sadly, you can't record your meeting with the free plan. You have to upgrade to premium to record and save meetings.
Live Captions and Subtitles: If you are a foreigner and you don't know how native speakers speak, then you can turn on Live Captions and Subtitle options.
It helps you with a real-time subtitle that makes your meeting more understandable. If you are a freelancer, individual, or agency owner, you can use this feature if you do not understand the opposition's speech.
Hand Raise: Another funny but effective feature that indicates you are ready to talk in the meeting.
Sometimes, people randomly talk and make extra noise in a meeting, but everyone should mute to prevent irritation and noise.
So, it's an effective feature where you can give a signal to your host that you want to say something after giving permission from the host. You can unmute and deliver your question.
Whiteboard: For teachers and coaches, most of the time, you need to present something in front of your students.
That time, you can use Whiteboard features and integrate Miro or Google's Jamboard by default.
Q&A and Polls: You can use these premium features to make your meetings more effective and helpful with Q&A and Polls.
You can ask your students or audience by Q&A or Polls, and they can vote or answer within a certain time, which will help you to make better decisions based on any topic.
Also, you can integrate Google Meet with Google Calendar, Gmail, and Google Drive and share your data with others with a few clicks.
Zoom Overview
One of the fastest-growing online platforms from COVID-19 is Zoom. Everyone uses Zoom to attend classes or meetings, from students to teachers, bosses to employees.
Zoom is a video communication platform where you can host up to 1000 participants based on plans. But initially, with its free plan, you can host a meeting with 100 attendance for 40 minutes.
Well, let's check out the features of Zoom;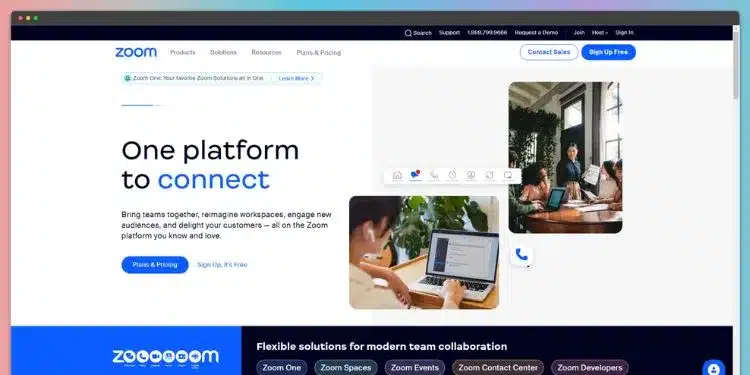 Zoom Features
Video and Audio Conference: In Zoom, you can host a video or audio meeting with your employees and others. And also, you can make this conference more specific with custom and unique links for each employee.
It helps you to keep your meeting private and secure inside of your employees or students. Every link should be unique and with a specific name and email.
It allows you to prevent fraudulent attendance at your conference.
Screen Sharing: You can share your screen with your Host's permission. If they allow you to share, you can share your entire screen or specific web page.
You can maximize window size, and it will help you share various types of windows with your preference.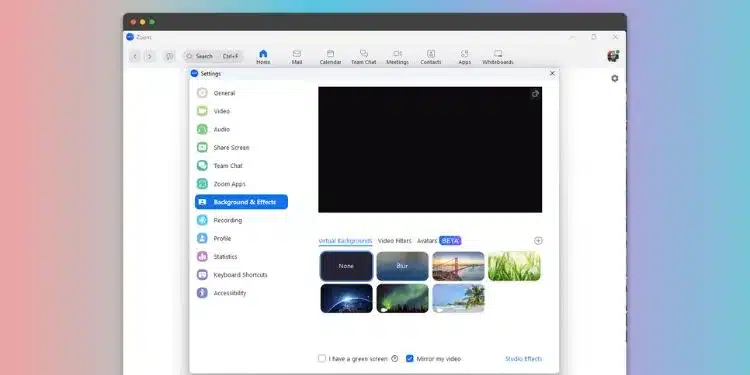 Virtual Backgrounds: Zoom provides some pre-made visual effects of your background; also, you can easily set your own branded background.
If you are using a green screen, you would be the best choice for you that helps you use the visual background in your meeting.
You can set any static image or video background to make your meeting more effective and professional.
Recording: You can record your meeting if you are a host of employees; no matter what, you will still be able to record and store your meeting on your own device.
It's a really special feature for everyone; even you don't have to pay extra for this feature; FREE and ready to store your meeting.
Breakout Rooms for Smaller Group Discussions: Onboarding your meeting, you can break out rooms for specific attendance with a small group.
It helps you to create small groups and make discussions with ease for certain persons.
Whiteboard: Zoom provides unique and built-in whiteboard features where the host and attendance can easily draw their topic to explain something.
With your host's permission, you can draw and share your whiteboard, and you don't need to use a third-party whiteboard like Miro.
Although it's not an advanced mind-mapping tool, you can fulfill your whiteboard needs for free.
Integration: Zoom is the most popular tool that allows connecting your favorite tools, such as Google Calendar, Microsoft Outlook, and other scheduling tools.
The scheduling tool helps you to generate unique and specific meeting invitation links based on each attendance.
Integration saves you thousands of time with automation, and you can keep your customers engaged in real time.
Gmeet Vs Zoom – Which Should You Use?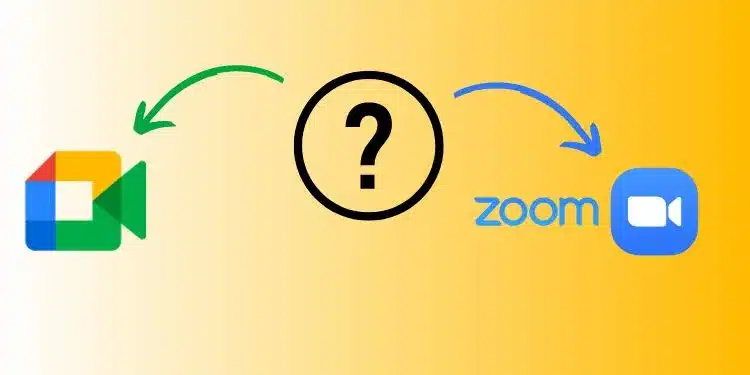 According to the discussion of the above features, you should keep in mind their features and accessibility.
Most of the features are available in Google Meet, which helps someone create a professional meeting with a single link.
But Zoom is the most advanced, where you can keep your meeting more secure and private with unique and individual invitation links.
Now, let's have a look at the difference between Gmeet and Zoom.
| Google Meet | Zoom |
| --- | --- |
| Easy to use | Need some extra steps |
| No App installed required | Highly suggest installing the App |
| Freemium Licensee | Free but limited |
| Recording (Premium) | Free Recording |
| 250 Free participants | 100 Free participants |
| Premium available for G-Suite | Premium available for everyone |
| Fewer Integrations | Massive Integrations |
| Beginner friendly | Intermediate functions |
Still not getting the final decision to use for your personal or professional use? Okay, let me clear you to use Google Meet or Zoom.
Google Meet Using Reason
Google meet is a product of Google, and if someone has a Google account, then he can use Google Meet for free.
They can use Google meet for meetings or collaboration without signing up or anything he needs.
With a single link to Google Meet, participant and join any webinars or direct meetings.
I like to use Google meet for my client meeting because they want to connect without briars.
I just provide them with a meeting link, and they can join with a single click. Thats it.
So, if you are a newbie or handling some size of your client, then you should go for a Google meeting with a single click.
But if you need to record and save your meetings, you should upgrade to premium with Google Suite and then avail of the recording feature.
Zoom Using Reason
Zoom is an advanced and powerful video conferencing tool where you can host your meeting and record with a single click.
It helps you to prevent unauthorized persons from attending your class or meeting; it may lose your private data.
Besides, professional meetings should host in a secure environment, but that doesn't mean that Google Meet meeting isn't secured.
But you can keep your attendance more secure with a unique authorization process with Zoom. It prevents and protects from fraud.
For an agency or board meeting, Zoom is the best solution to make a successful meeting online.
Now, hopefully, you can understand the difference between Google Meet and Zoom, and you can decide which you should use for your meeting.
You can choose the platform to gain the highest productivity based on your needs.
Final Line
Gmeet VS Zoom isn't a game; they are the platform where you will get the different types of features and manage your daily business with them.
But you can make your decision according to your need, that makes you complete it effortlessly.
Zoom is the most useful tool that saves your time and keeps you engaged with real-time meetings, similar to Google Meet.
So, the decision is yours; you should use both of them and decide the best option for you.