Hey, are you a freelancer? Need a payment processing method that seamlessly helps you to get payment into your pocket?
If that is, then you need Payoneer or Wise. Wait! What am I talking to you about? No problem if you don't know about these two platforms.
I'll clarify in this what Payoneer and Wise are. And Payoneer vs Wise comparison from freelancers' point of view.
Let's find out;
What is Payoneer?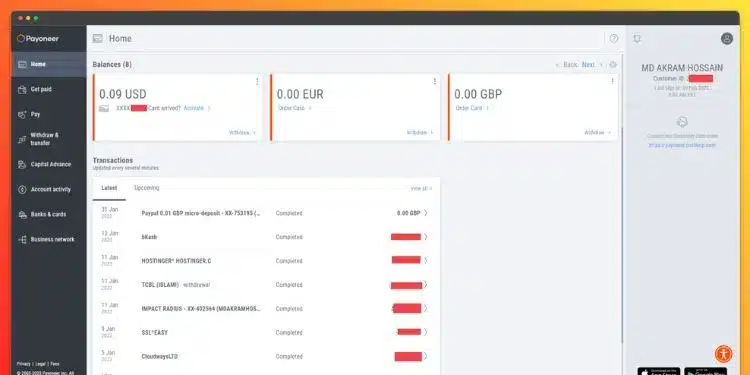 Payoneer is an international P2P, B2P, and B2B payment solution; freelancers and entrepreneurs widely use it for its secure and easy-using capabilities.
In short, Payoneer is a financial service company where you can collect local to aboard payments in limited local currency.
If I come to the charges of Payoneer, before that, I should explore the features of Payoneer.
I"m using Payoneer since my online career in Bangladesh. As a freelancer, I need it to accept payments from marketplaces like Fiverr and Upwork.
Well, let's have a look at the features;
You can use Payoneer for your personal and corporate usage if you have an active company.
But as I'm mentioning in the heading, I'll share real experiences from my user experience, so I only share personal account benefits here;
Fund Source: This is the most common and useful feature where you can integrate Payoneer with two big marketplaces like, Fiverr and Upwork. Directly, you can withdraw your payment in Payoneer within a few minutes.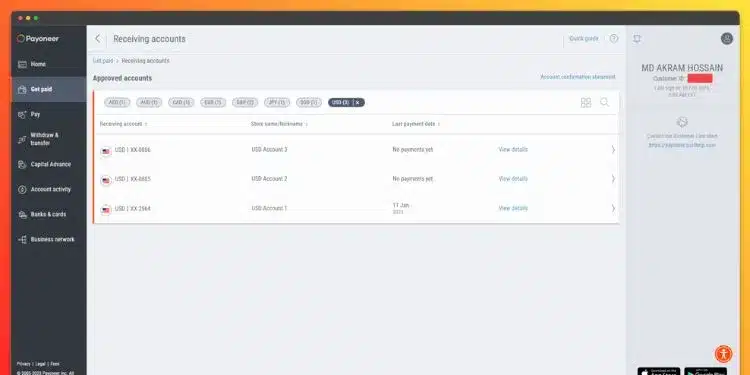 Receiving Account: Luckily, this feature benefited me a lot; I've been doing affiliate marketing for the last 2 years in Impact, Shareasale, JVzoo, and others.
It helps me collect my affiliate payment with the ACH method without hassle via Payoneer.
Global Payment: By receiving account details from your local clients, you will get directly paid with local currency such as USD, GBP, EUR, CAD, AUS, and other currencies.
So, if you have any outside-of-marketplace clients, you can use your bank details without opening a bank account in that country.
Direct Debit: Even It helps me to connect my account details with Amazon, Stripe, and PayPal for direct debit.
bKash Transfer: If you are only Bangladeshi citizen, you can integrate your Payoneer account with bKash, and withdraw money from your bKash account with a few clicks.
Instantly you will get your BDT money into your bKash account.
Prepaid MasterCard: This is really insane for us; if you can complete their conditions, then you can order your personalized Prepaid MasterCard with yearly fees.
Widely accepted MasterCard for direct ATM withdrawal, online payment, POS transaction, Google Pay, and Apple Pay eligible card you will get from Payoneer.
Recipient Payment: You can make transfer your money to your recipient directly to their bank account. But if they have a Payoneer account, you can instantly transfer money for FREE.
Reports: You can download any specific month or category-wise statement of your specific currency.
And you can see the whole transactional details that you should know about your expenses.
Wise Overview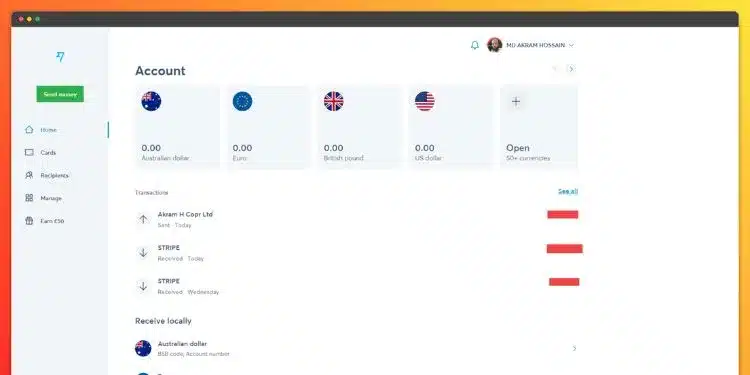 Note: Wise is currently not supporting Bangladesh in opening Bank Accounts; it's sad news for Bangladeshi who want to use Wise for their payment collection from overseas clients.
Wise is a popular, easy-to-use, and cheap costs financial services company that allows sending and receiving money locally to abroad.
Using a Wise personal account, you can receive your money from your out-of-marketplace clients and some marketplaces.
Wise provides 10+ local bank account numbers, including USD, GBP, EUR, AUD, CAD and others. Besides, you can open more than 50+ currencies without bank details.
Wise, formerly Transferwise, has changed its company name and upgraded its activities.
In this blog, I'll only discuss the Wise Personal account. So, now let's have a look at the features of Wise below;
Wise Features
One of the most interesting parts of Wise, you can easily create a Wise account without boring extra verification methods.
They provide a seamless verification method where you can verify your account via your Driving License, Passport, or National ID Card. (Based on which country you are located).
Receiving Account: As I said before, you will get 9+ local bank details to help you connect your payments from local clients with the same currency.
And you can close your currency and open it instantly without any verification issues. Even you don't have to pay for these bank account details.
Global Payment: From a marketplace, such as ClickBank, JVZoo, Impact, and others, you can add your USD or other bank credentials to collect payment without fees.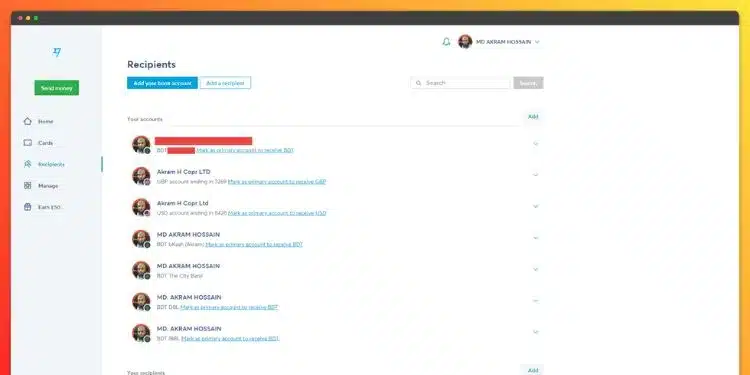 Withdraw and Transfer: You can transfer or withdraw your money into your local bank account, based on your country; it will take up to 5 working days.
bKash Transfer: For Bangladeshi Citizens, you will get special services like withdrawing your money from a Wise account within 5 minutes with Govt. Incentives.
There are no additional fees except Wise fees.
Visa Card: Wise provides a Visa Debit card for your Wise account; you can use this account for any currency; it's not any specified currency card.
Suppose you have 3GPB and a 5 USD balance on your Wise account; you want to pay 6 USD. Then you can pay without any conversion of currency.
It will automatically be deducted from the GBP balance once the USD balance is finished. How cool is that!
Sadly, they aren't providing any Wise Visa Debit Cards for Bangladeshi accounts. But hopefully, they will soon launch their card in Bangladesh.
Well, let's compare the charges of Payoneer vs Wise and see who the winner is.
Payoneer vs Wise Charges Comparison
Here are some pricing comparisons where you can see Payoneer and Wise pricing differences;
Features
Payoneer
Wise
Opening Charge
Free
Free
Receiving Account
Free
Free
Card
$29.95/Year
Free
Card Type
Prepaid MasterCard
Visa DebitCard
ACH
1%
Free
Direct Debit
Up to 1.2%
Free
Outside Payment
N/A
Yes
Bank Details
Based On Transaction
For All
Withdrawal Bank Account
Up to Three Banks
Unlimited
Withdrawal Limit
$50 Minimum
$5 Minimum
Transparency
Limited Transparent
Very Transparent
Conversation Fees
High
Very Low
Verification Process
Manual & Lengthy
Automated & Fast
Marketplace Visibility
High
Low
Initial Deposit
No Required
$20 (Usable)
Fund Transfering Time
Average
Bit Fast
Functionality
Average
Average
User Interface
Minimal
Very Minimal
Customer Support
Live chat, Email,
WhatsApp, Call
Email, Call,
Live chat (limited)
Here, you can see the initial difference between Payoneer and Wise, so hopefully, you can understand the using decision for your freelancing career.
Now, let's come to the point of what we should use for our freelancing payout.
Payoneer vs Wise – Which Should You Use?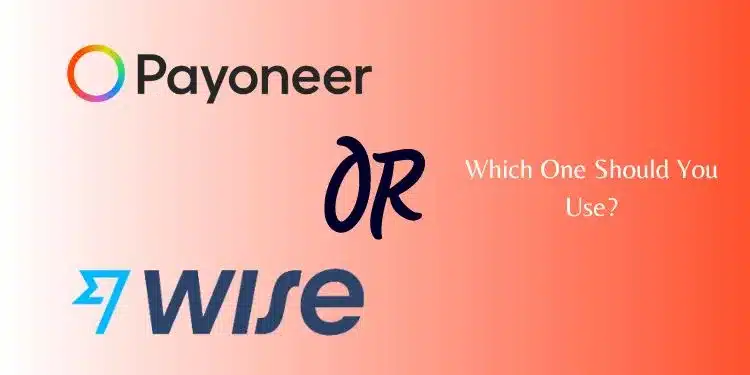 As a freelancer, you should use both of them because they are the same, with slight differences in their service.
Why should you use both of them? There are some reasons;
Getting Easy Payout: If you are working on Fiverr or Upwork, you should use Payoneer.
For user payout, Fiverr uses PayPal and Payoneer as fund sources, so you need a verified Payoneer account to receive your balance.
Then suppose you are a blogger and you are working in some affiliate marketplace; then you should use Wise.
Wise provides 9+ currency bank details, and you will get paid ACH or Wire transfer without fees; by the way, Payoneer doesn't support wire transfers with receiving accounts.
Short, if you are using Wise and Payoneer for your daily usage, then you can make your payout method easier and without hassle.
Using those different payment solutions for a freelancer, it's not a bad thing either. But to get 100% verified with Wise, you have to deposit minimal money ($20).
Although you can withdraw after the deposit, they are not charging you, just a deposit.
Final Line
Using Payoneer and Wise, it's completely based on your service and what type of service you are providing.
If you are a marketplace-based freelancer, you should use the payment solution the marketplace requires.
But initially, if possible, you can manage both of them for your further use; it's not just an account; it will help you get paid easier, and there are no changes to losing your clients.
I like Wise; they provide fewer transaction fees and save me money. Now, the decision is yours.
Let me know your best payment method and which one you already use.