---
---
Is SEO easy for a newbie? 
It's not like that, but it's easy to acquire the best result from an SEO campaign if you have a small business to manage organically.
When I started my SEO journey, it took a lot of time to understand which tool I should use to improve my SEO productivity.
Analyzing and considering the features of my different types of SEO tools, I picked up some essential and useful SEO tools for small business owners.
Without measuring the SEO data, you couldn't make the proper decision to move forward on your SEO journey.
It's not rocket science, though, but it needs minimal analytical data to explore your visibility online.
I'm sharing the 10 best SEO tools that help small businesses grow their business online, and remember, most of them are free of cost.
TL, DR:
Using SEO tools can save tons of time and effort
Insightful SEO tool's data can help to increase organic traffic
Useful tools can boost your potential in no time
What Are The Best SEO Tools For Small Businesses?
Look, in this dynamic field, you would see the vast number of SEO tools coming and going, but feature-rich SEO tools always win in their field.
But let's have a look at some recommended SEO tools for small businesses following.
These tools work in various ways to improve SEO ROI, and I'll cover the usage and features of each of them.
Let's dive deep;
1. Google Search Console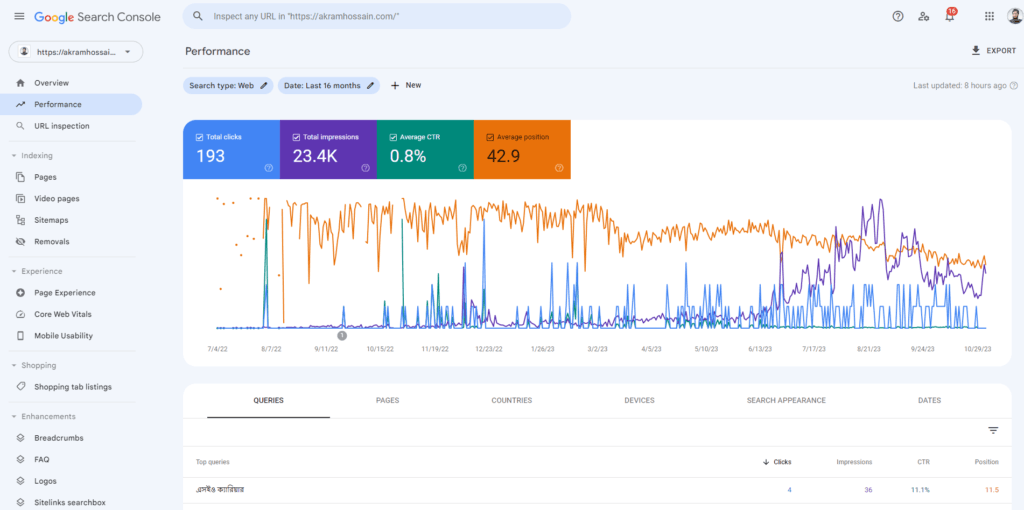 Depending on Google's popularity in the search engine field, no webmaster can ignore their site to index in Google. Can't you?
Surely not, because it's the massive traffic source in the current online era, and almost everyone wants to rank high on Google.
Google Search Console is a tool that allows one to discover, crawl, and index a webpage for the search engine result page. (Currently, SGE stands for Search Generative Experience.)
Using the search console, you can view your site's organic performance and data in different ways and date ranges.
Let's explore some key features of Google Search Console;
Performance: By default, you can see the last 3 month's web traffic data of your website, and it shows Total clicks, Total impressions, Average CTR, and Average positions.
You can change the date range to view more thorough data of your site and compare it with the before and after date range.
Also, it allows viewing data by specific query, page, country, and devices that are more effective for SEO analytics.
URL inspection: Important tools for SEO; you could get help from this feature about your URL. If it's in indexing or having any issues with it, you can identify with it.
Using URL inspection, you can identify the issues, Google's rich results, and many more at once.
Indexing: One of the most useful and daily need features of Google Search Console. It shows the indexed and not indexed page data.
Video Pages indexing, Sitemaps fetching, and URL Removal features help you to rectify your web page in various ways.
Experience: It shows your field and lab page speed metrics of your website, and you get detailed page speed insights right from here.
Core Web Vitals (CWV) provides the whole user experience and site layout data of your site.
Mobile Usability features provide the report of your site's mobile device's user experience in short, and it will warn if your webpage isn't optimized for mobile devices.
Another important feature you may get from the Experience tab is HTTPS. It's a secure connection to your site, and Google highly recommends using it on every page.
These are the key features of Search Console, and using these features, you can manage your site's indexing and identify the issues with ease.
Pricing: It's a Google's FREE product.
2. Google Analytics (GA4)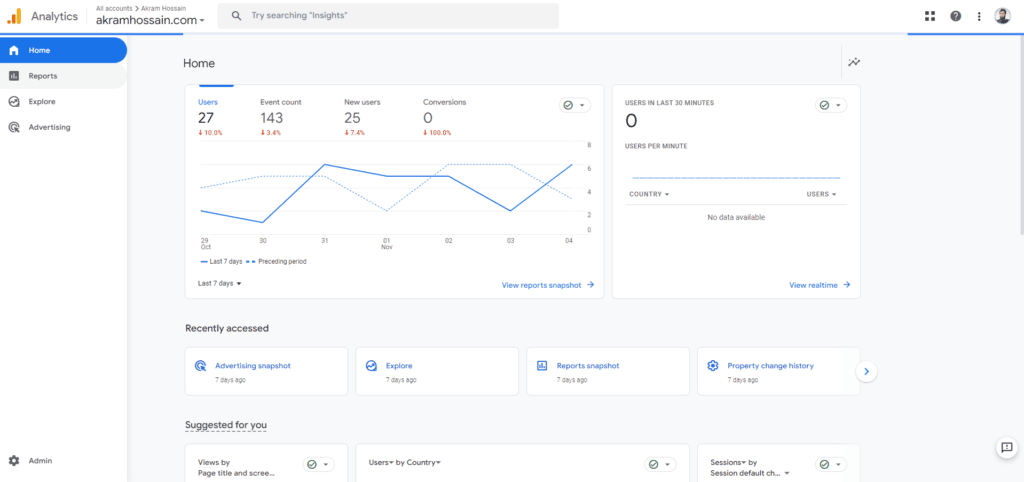 Google Analytics is the most useful and powerful SEO tool for webmasters who run a website online.
Google Analytics allows you to track user the complete data of your webpage from the core of your site. Using this tool, you can see the real-time user behavior of your site and analyze the traffic sources.
Google has enhanced its tracking effectively and system from Google Analytics to Google Analytics 4 (GA4) that covers more accurate and effective data now.

Now, let's explore the key features of GA4;
Home: After integrating with your site, you will get the Home dashboard of GA, and it shows the various user insights that you may need.
You can sort the user's data range and see the comparison of before-after insights of your site.
Without clicking anywhere in the Home Dashboard, you can view the last 7 days' Users, Even counts, New users, Conversations, and more. Also, you can filter out the period according to your analytical needs.
Later, you can view the Real-Time user interaction with your site, and it allows you to see the user's behavior, country, and where it goes.
Reports: It's the most advanced level of user tracking and insightful data that you saw in another tool.
In the Reports section, you can view a snapshot of the scenario and real-time in-depth data.
Explorations: If you are an advanced user of GA4, you can create your own customized data to track and explore the detailed data.
Advertising: It's the heaven of tracking your eCommerce sales and leads with Google Ads. It can help you to improve your ROAS effectively.
Look, these are just overviews of Google Analytics 4; No one can explore this tool within 300 words. If you are a webmaster or Small Business Owner, it's this must-use tool to track your site's performance thoroughly.
Price: It's a Google's FREE product.
3. Google My Business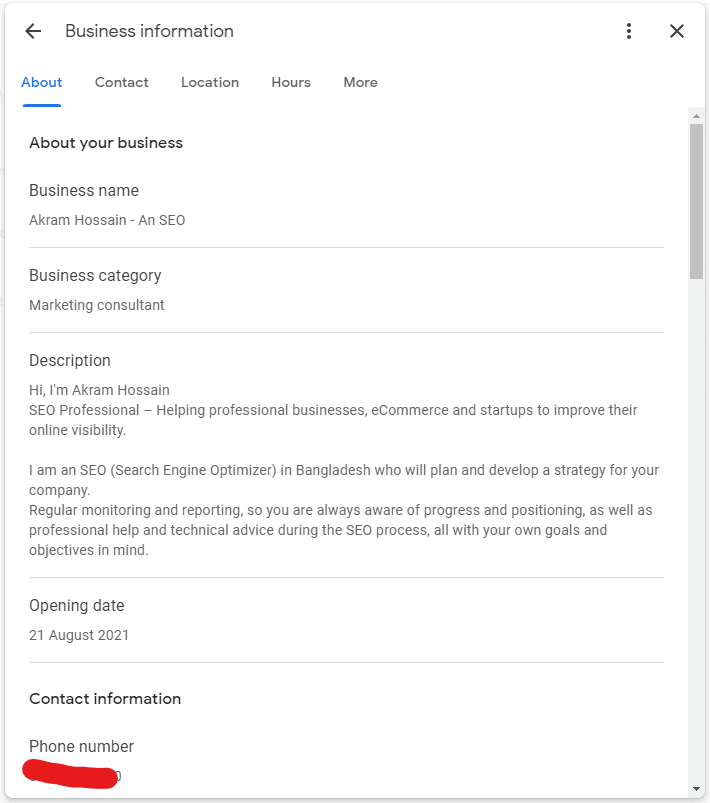 GMB stands for Google My Business, the gem of Local SEO, and you also use GMB almost every time GMB to navigate your location.
Almost every successful or new business uses GMB listing for their local customer acquisition, and importantly, it's easy to operate and get local traffic effortlessly.
Especially if you are running your business in targeting a local area like a city, town, or a particular territory, you must use GMB for local user acquisition.
GMB allows your customers to come to your location and take your service; also, they can be aware of your services or products before coming to you.
As GMB is integrated with Google Maps, you can use your shop or business location to come to customers easily.
Key Usage of Google My Business:
Local Listing: It's the most powerful and effective listing ever of local SEO that get connected with your customer over their phone.
Almost 90% of users use Google Maps services to navigate to go anywhere unknown, and GMB can help them find the right business at the right time.
Know Your Business: Using Local Search, they can see the story of your business, and it helps to keep customers engaged with your services.
I personally recommend that small local businesses use GMB to explore their highest potential and gain more potential customers with less effort.
Using Google My Business listing passes the signal to your local customers that you are serious about your business, and by seeing the opening and close times, they can get prepared to come to you.
Pricing: It's a Google's FREE product.
4. Google Trends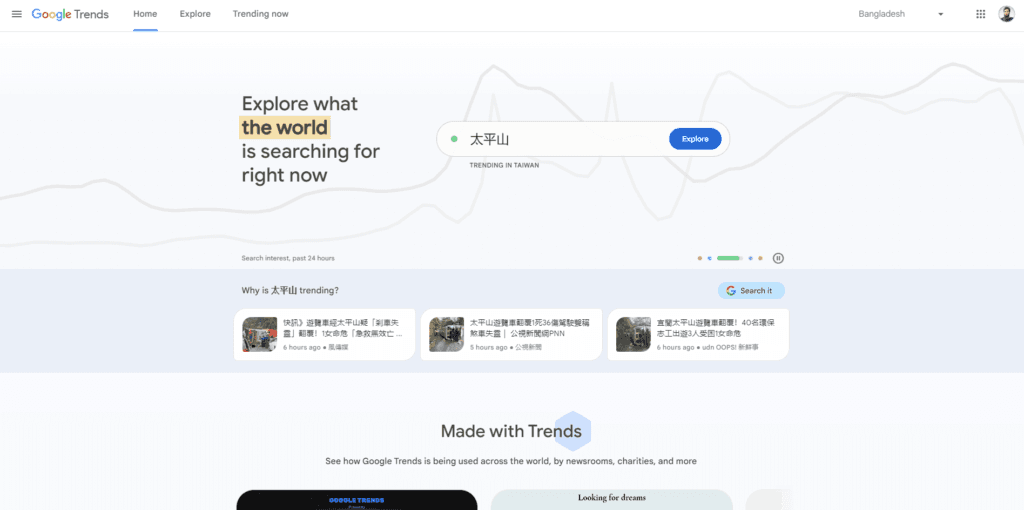 Google Trends is a tool that shows any kind of product or search term's previous public interest and allows one to compare with any topic.
Let me clarify, suppose you are selling an "Apple juice maker" and you want to see the demand before 5 years.
Using Google Trends, you can see the whole data of this keyword with a single click, and even you can specify the Country, Category, Timeframe, and Search Platforms.
Google Trends indicates the popularity of specific queries over time, and based on these trends, you can set up your small business and make it more profitable.
Pro Tips: Think smartly; FIFA world ticket trends show a spike every four years, so don't hanger after the spike; pick the products based on your own experience and think about reality.
Key Use of Google Trends:
Explore: You can use a single search term or keyword to see the trends, and also, you can use multiple comparison units to compare deeply.
Filter out the trends period and view the data according to your research.
Trending Now: If you don't have any idea about any topic to explore, you may see the Trending Now option to see the tending now topic for a specific country and make your decision to improve your business.
Before selecting a niche for your site, you should use Google Trends for once to verify the actual demand. It will help to understand the actual people's interest, and you can justify how long it will sustain in the market.
5. Small SEO Tools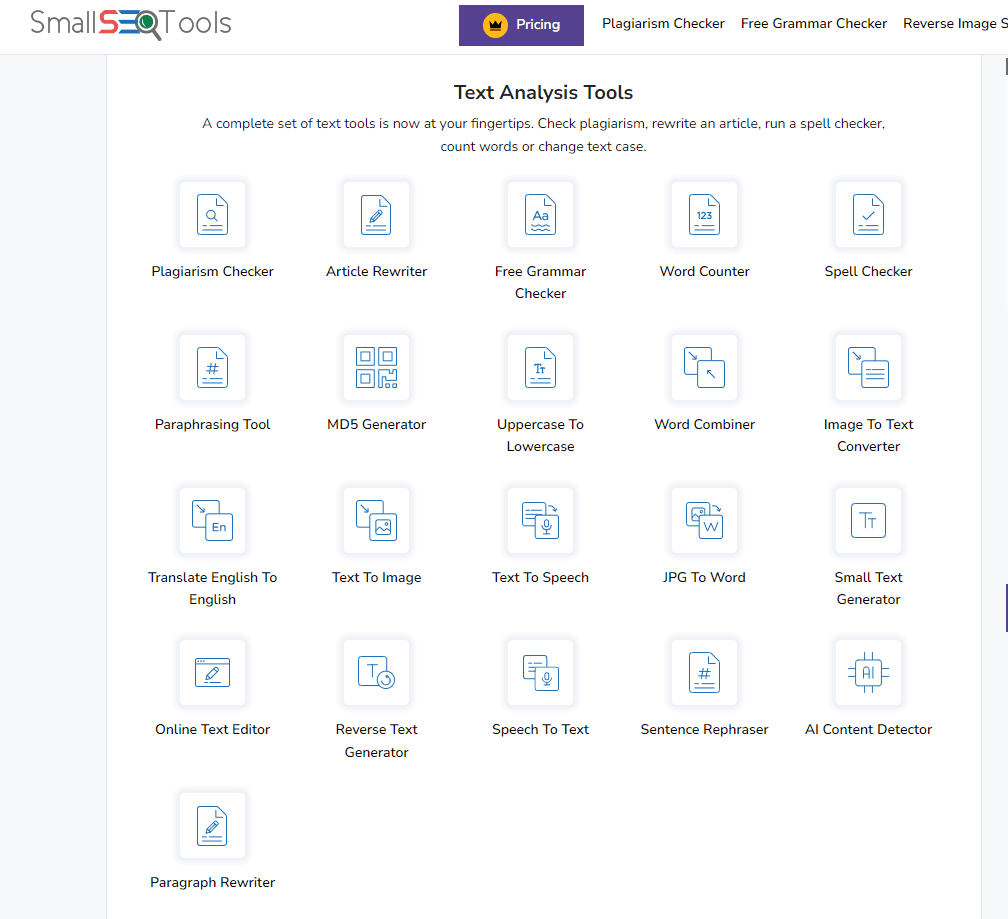 Small SEO Tools is the master of SEO that provides different SEO solutions for your SEO campaign.
It's the warehouse of SEO, and almost 275+ tools are provided for FREE of cost without paying a penny.
Using these tools, you can cover almost every SEO need, such as;
Domains tools
Website Trackings
Website Management Tools
Backlinks Tools
Keyword Research and Optimization Tools
Image Edit and Optimization Tools
Text Analysis Tools
These tools allow you to cover up the whole SEO journey without switching multiple tabs, and you will get every solution under the roof.
For a small business owner, SmallSEOTools is a product that has budget-effective business and needs a good outcome.
Fallback: It's not the ultimate tool that you can use limitless; it has some limitations for free users, but if you can manage piece-piece content with SmallSEOTools, it thinks you won't have to pay.
SmallSEOTools is a platform for every piece of SEO-similar tools that you need to explore your productivity and efficiency with ease.
How to Use Small SEO Tools?
It's a really simple way to explore and use Small SEO Tools according to your needs. Look, you don't always need to use PDF-related tools inside of SmallSEOTools, but you can explore.
Example;
If you have to write an article and want to check the keyword density, it's simple to check inside SmallSEOTools.
Go to the Small SEO Tools website, scroll down to the Keywords Tools, and select Keyword Density Checker.
Paste your content in Text or URL and Click on "Explore Keyword Density."
Similar to these features, you can use almost every use this way, and it's as simple as that. If you are a small business owner or you manage any business, then this tool can help you to boost your productivity dramatically.
Pricing: You can buy the word count based on weekly or monthly according to your needs. You will get three types of category pricing here;
Plagiarism Checker PRO
Image Search PRO
Paraphrasing PRO
This pricing has some variation for pricing flexibility, so you should check it out in their pricing plans.
6. SEMrush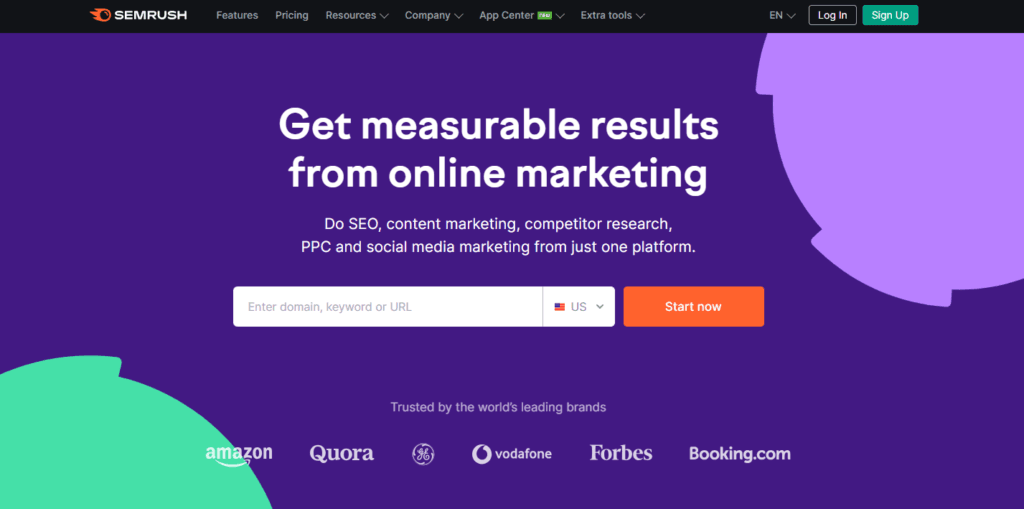 SEMrush is one of the most popular SEO giant tools that provide solutions for the SEO industry. They cover from keyword search to website optimization to ensure you improve your online visibility.
It has some major features that help any business or SEOs to use and execute their SEO campaign.
Let's explore the key features of SEMrush.
Competitive Research: It's a board feature of SEMrush that allows you to analyze and see the domain overview of any site, and you can analyze the important aspects with a single click.
Keyword Research: Power up your niche with the keyword search tool that provides in-depth and updated metrics of every keyword, and you are allowed to filter out the best possible options to grab your keyword.
Using Keyword research tools, explore, manage, research, and more, you can speed up your keyword search journey.
Link Building: SEMrush helps to build backlinks by researching your content's Backlink Audit and gaps and finding out the best possible options to get higher ranking possibilities.
On-Page and Tech SEO: These are very important and useful features that allow you to check the complete site audit for on-page and technical SEO.
Using these features, you can find out the hidden errors and fix solutions.
More or less, SEMrush is a tremendous tool that helps you to manage your whole business online for SEO, whether it's local SEO or international.
Is SEMrush suitable for small budget effective business?
It's tough to say, and it depends on your business that effort. If you have a budget-effective business that doesn't want to spend more money initially, then you should choose SEMrush to analyze your business growth.
Pricing:
Compared to similar products like Ubersuggest and Ahres, it's slightly expensive. It has three different plans;
Pro: 129.95 USD per month
Guru: 249.95 USD per month
Business: 499.95 USD per month
If you are running a new small business, it won't recommend using it; instead, you can continue your research using Google's products like Google Keyword Planner, Google Analytics, and Google Search Console.
7. Ahrefs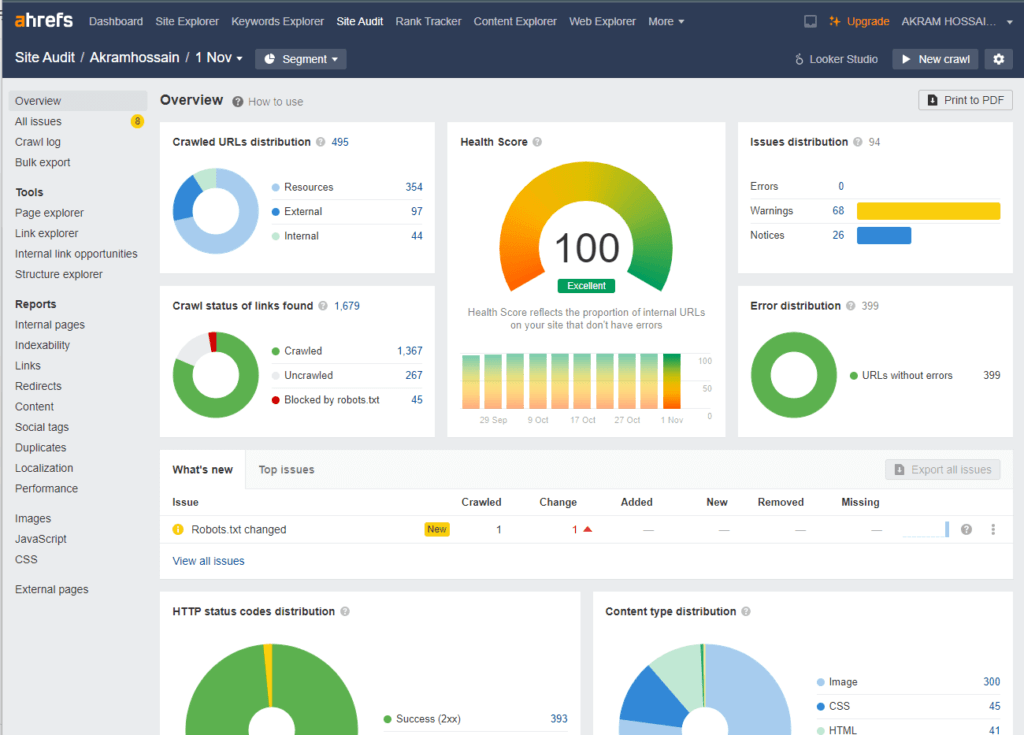 Ahrefs is a popular SEO tool that allows SEOs to analyze, track, research, and explore their SEO campaign in a simplified way.
From individual to enterprise, anyone can use Ahrefs to improve and increase their online visibility with ease.
From keyword research to website performance management, everything you can cover inside Ahrefs helps you in various ways.
It has some effective features that provide value to anyone who wants to evaluate their SEO journey.
Dashboard Overview: One of the finest dashboards I have ever seen in any SEO tool; just connect your site using Google Search Console or Manully and scan site project. Boom!
You will get a complete and insightful overview of your site, and further, you can check those unsightly individually to improve or fix.
Site Explorer: The busiest feature of Ahrefs that allows one to explore any site's history and explore the organic traffic, backlinks, keywords, paid traffic, website performance, and more in a single dashboard.
Also, here, you can research your organic traffic and make the proper decision as to how you can get more traffic by improving keywords and content strategies.
Keyword Explorer: Get thousands of keyword suggestions with a single click from your seed keyword. They provide almost accurate search volume and other metrics to determine and pick the right keyword for your niche.
The next-level feature of Ahrefs helps tons of webmasters pick up their best keywords effortlessly.
Site Audit: Analyze your on-page and technical SEO issues and fix them that Google always loves. Find out the reason that prevents you from higher ranking. The site audit report contains 140+ SEO issues that may harm SEO.
Rank Tracker: Connect your site as a Project and track each keyword position from real-time SERP. It provides thoroughly advanced reports that help you to analyze the ranking position.
Content Explorer: Last but not least, Content Explorer helps to optimize the content that actually stands out for you, and you can get the ideal idea to optimize your content based on your ranked competitors.
Ahrefs is a much easier-to-use and professional tool that provide vast features of SEO and make SEO campaign successful with all stuff.
You can use its free version for a lifetime with limited time use, and it helps to explore your site and other common factors without paying.
If you have a single and new site, you can use their free version and integrate your site as a project via Google Search Console. It will help a lot.
Pricing:
Not much less, but if you have some budget, you can afford it from the Lite Plan;
Lite Plan: 99 USD per month
Standard: 199 USD per month
Advanced: 399 USD per month
Enterprise: 999 USD per month
8. Microsoft Clarity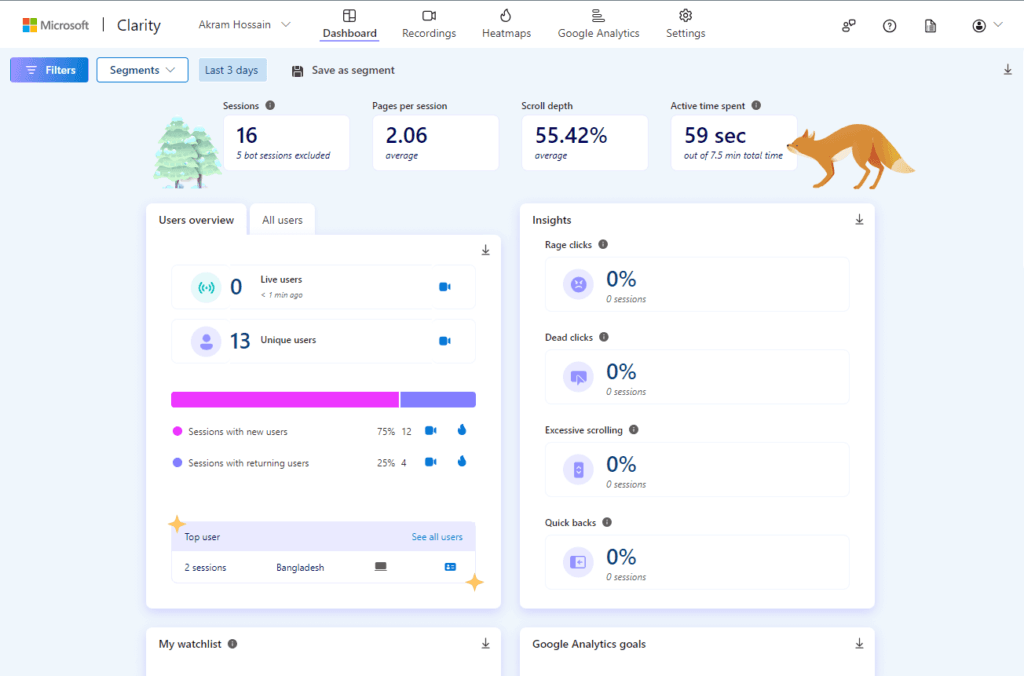 Microsoft Clarity is a free user interaction tracking tool that tracks users' heatmaps, session recording, visualization, and more.
Using Microsoft Clarity, you can track your user interaction with your site visually and see the visual like a pro.
It's helpful for businesses that want to track users' data closely with deep insights.
Dashboard: Get insightful data of your whole website's traffic and their session, how deep they scroll, their average spend time, and more in a single page.
Recording: Microsoft Clarity records the user's live visual interaction and provides insightful data that you can actually work for the next.
Also, it will help to see the best CTA part for your specific web page.
Heatmaps: They provide maximum user interaction hotspots of your web page, and you can get the data of the most used portion of your page.
It helps to make a better decision about where you should add the CTA for more conversion.
Using Microsoft Clarity, improve decision-making conversion and optimize the user experience according to the recording and heatmaps data.
Pricing:
It's absolutely free of cost.
9. Hotjar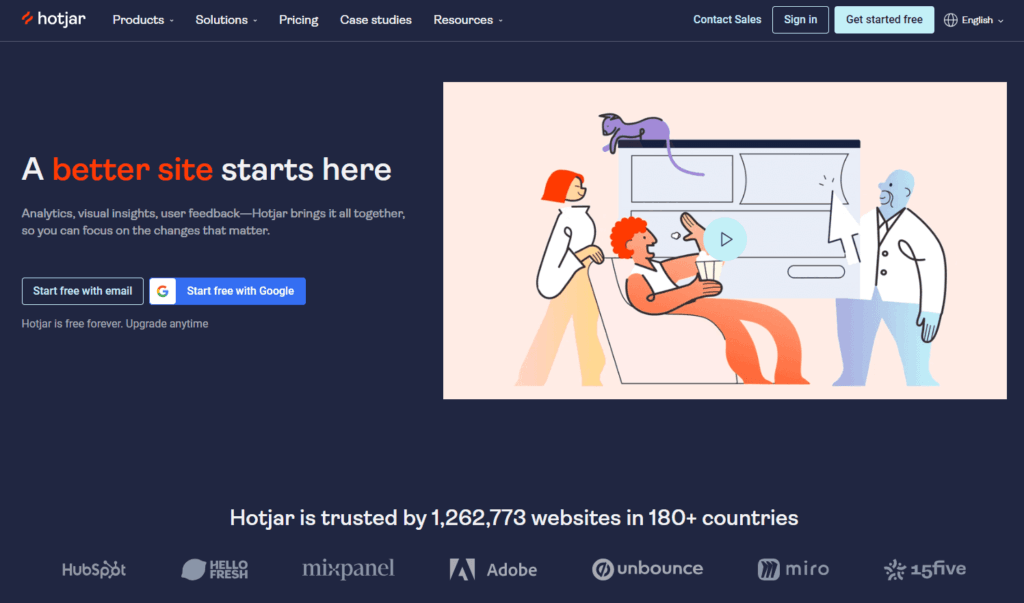 Hotjar is the most popular user-tracking heatmaps and session recording tool that provides in-depth user data on your site.
Using Hotjar, you can easily watch their interaction with your site and see their behavior visually.
It's the advanced version of Microsoft Clarity, and if you have enough budget to use the premium version of Hotjar, then you are welcome.
Let's have a look at the key features;
Trends: Provides the best value of your website's current trends that help you to understand the topics that are trending.
You can create your own unique data based on your own preference, and that helps you to analyze the highest data of your site.
Funnels: By creating funnels inside of Hotjar, you will be able to optimize your conversion rate. It shows the real user behaviors that you actually want without adding the Regax Formula inside of Google Tag Manager or Google Analytics.
It's the codeless formula to make user journey funnels with ease.
Recordings: The recording feature records user activities visually in real time, and you can watch the recorded version from the recording section.
Heatmaps: Heatmaps provide the most user interaction data with heatmaps based on traffic and cursor behaviors.
Analyzing the heatmaps, you can make the decision to change or modify the CTA and website content to increase conversion.
Surveys: It's another useful feature that allows the collection of user feedback and surveys for your services, products, content, design, and anything you need to collect from users.
The survey is a very useful thing that helps you to optimize your services, products, and content according to your needs.
Interviews: Before recruiting the qualified candidate, you can take the interview right from your Hotjar dashboard, which saves time and money in both ways.
So, compared to Microsoft Clarify and Hotjar, both are useful for viewing the user's data and deciding for the next step.
But if you have enough budget to spend, then Hotjar provides the extra value depending on the features.
Pricing:
It starts from the FREE forever, and you will get the different types of pricing plans.
10. Canva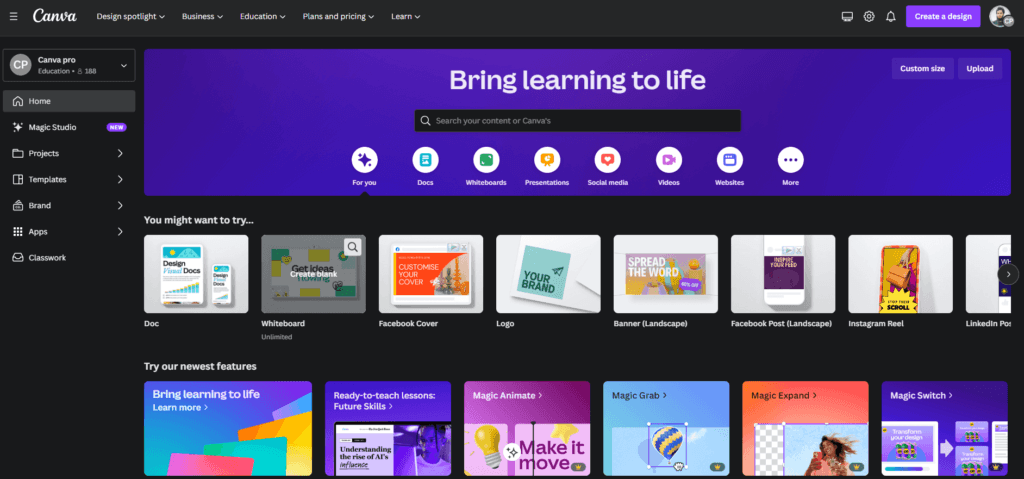 Canva is the most popular and powerful AI-based online graphic designing tool that allows one to create thousands of graphic designs, images, videos, infographics, logos, gifs, and more within a few clicks.
Simply, it's the daily routine use tool for my team and me; if you are a solopreneur or small business owner, Canva is the best solution to cover your whole graphical instrument.
As I can't cover the whole feature list of Canva, let's have a look at some key features.
Visual Documents: Using Canva, you can create docs, presentations, whiteboards, PDF editors, graphs, chats, and more.
Photos and Videos: It helps to make video editing, YouTube video editing, photo editing, and photo collages under the roof.
Print: Canva makes it easier to create print-on-demand products such as Business Cards, Cards, Invitations, Mugs, T-shirts, Hoodies, Calendars, and more.
Marketings: You don't need to hire graphic designers to create Logos, Posters, Social Media, Websites, Signs, and anything related to marketing. Create everything using Canva with ease.
Canva for business management provides massive business solutions to improve your productivity 10X.
Canva for business: From small business to enterprise, you can create content, visual communications, brand management, team collaboration, planning, scheduling, assets, and many more for your business.
It also helps to improve the whole workflow of your business and teams.
Solutions: Canva provides solutions for Marketing, Creatives, Agencies, Sales, Communications, Media and Publishing.
Resources: Canva provides massive resources for business, case studies, features, integrations and apps, and more inside.
Not only that but also, If you have an eligible education organization, then you can use Canva for education purposes with educational instruments.
Canva's various features and activities allow you to improve the highest level of productivity, and you can easily improve your social and online presence for your business.
You can ask me how Canva could help with SEO.
Well, visualization is part of your SEO campaign; no one can build a site without visuals like images, infographics, and GIFs. So, Canva is a tool that allows you to create those things at your fingertips.
Pricing:
Canva is free, but you have to pay if you want to use all of its advanced features according to their pricing.
11. Answer The Public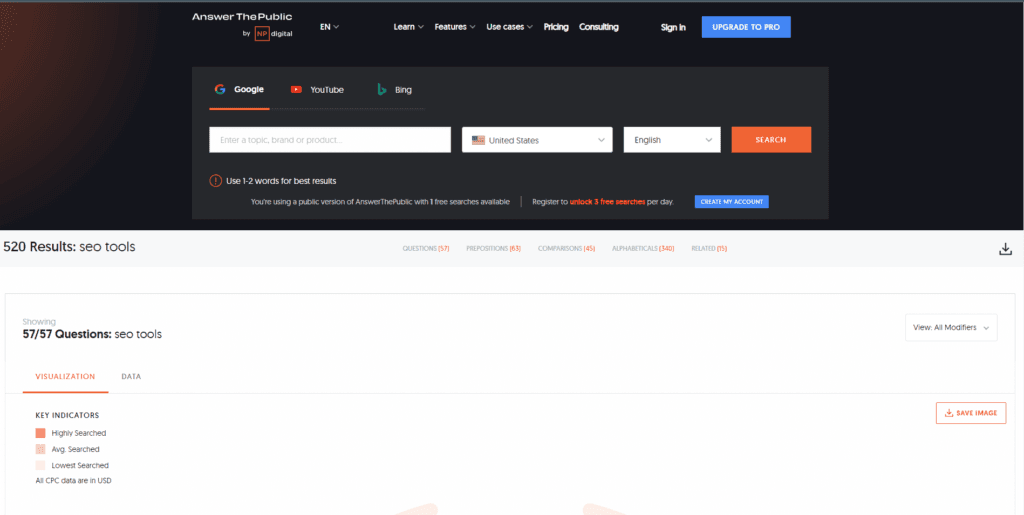 Answer the Public is a question-generation tool that provides thousands of related and relevant questions based on your seed keyword, niche, topic, or brand.
Using it, you can generate the idea of any board topic with a single click and see the metrics of each question that has already been asked.
Some amazing features help small businesses grab the idea for their seed (single) word keyword and get the idea to explore more in short.
Let's explore;
Google Search Listing: With a single click, you will get the whole data of your keyword from Google Listing without going to SERP. You can even see the metrics of those generated questions.
Export and make the cluster of your keyword to make the highest visibility of your content. It allows you to see the keyword's search questions for any location.
YouTube Search Listing: If you are a professional content creator on YouTube and other video-sharing platforms, then Answer The Public has an amazing staff to help with your next video topic based on your keywords.
It amazingly helps you to see the viewers asking on YouTube with approximate data insights.
Bing Search Listing: Another popular search engine is Bing, and if you have targeted visitors from Bing, then Answer The Public will help you to analyze and find the topic of your niche.
With the same process, you will get the questions for your Bing-targeted content.
Pricing:
It's free for three searches daily, and if you want to see more data, then you have to pay according to their pricing.
Final Verdict
So, here are some tools that help you to improve your small business's productivity if you can utilize them accordingly.
Are all the tools I use? It's not necessary to use all of the tools to improve your business, but most of them are really helpful to any business.
Even every tool has alternatives, and competitors are launching new tools almost daily basis. So, in this dynamic field, you can find more productive tools than them.
According to your own preference, tool usage may vary. And you should use the free version of them to see the adaptability for yourself.
Some tools are the most favorite to me, but that doesn't mean those will be favorites to you. It depends on what types of services or products you are providing and what you actually do need to expand your business.
These are random listings, and you can pick any tools for yourself.
Bye for now.