---
For your convenience, I've added a short brief of these five best SEO extensions;
---
Why Should You Use SEO Extensions?
In short, you may not have much more time to analyze the whole site or open SEMrush, Ahrefs, or a similar tool's dashboard to analyze the pages.
Instead, use SEO extensions (small tools) that are basically integrated with your browser corner, and you can easily utilize them with a single click.
Here is a question for a newbie: How do you install extensions in different browsers like Google Chrome, Brave, Firefox, and others?
Read this article to understand how to install extensions.
Automatic tools can give you 10x better data or insight rather than your manual process to get the analytical insights.
Have you tried to get the current keyword rank position of your site? If you didn't, you should.
But which tool can help you to see the data with a single click?
To get the highest potential of my SEO career, I always use different types of tools and check their features.
I am a tool enthusiast who always tastes new tools for new features and their flexibility in my SEO and Digital marketing career.
These always help me to give extra care to my clients and me as well. So, Here I'm eager to share these tools with you so that you can also find out the best potential of these.
Let's dive deep;
5 Best SEO Extensions That Improved My Productivity
Using these tools can save time and effort in real time, and you don't have to manage different types of tools to see the metrics of your SEO mechanism.
No more further discussion, let's get started;
1. Ubersuggest – SEO and Keyword Discovery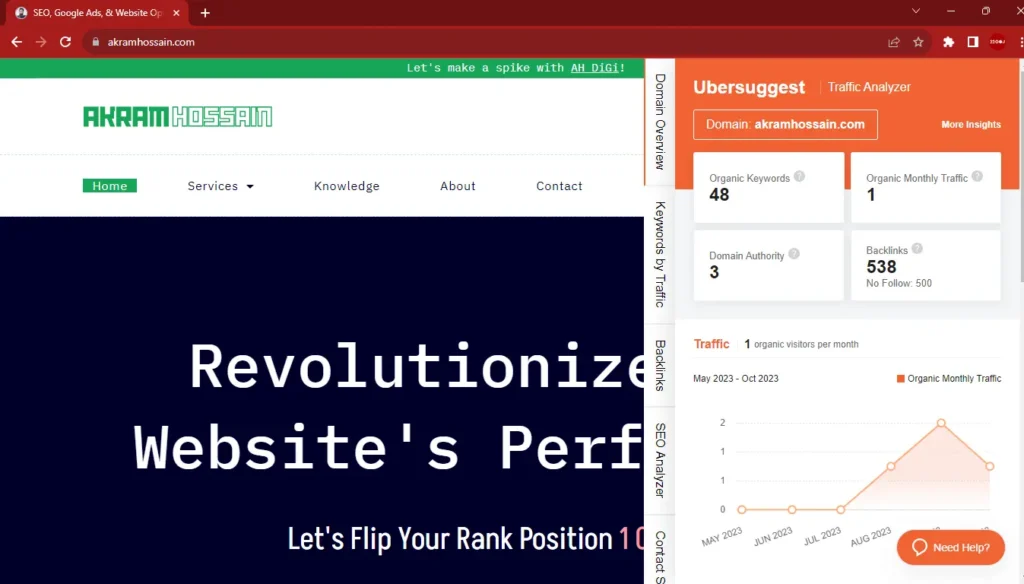 Ubersuggest SEO extension helps you to see any of your webpage's on-page SEO data with a single click.
NeilPatel develops it, and here you can see the overall website's number of keyword ranks, number of backlinks, and organic traffic states with ease.
TL;DR:
Total Users: 600,000+
Category: Productivity
Average rating 3.5 out of 5, rated by 260+ users.
You don't have to log in to the Ubersuggest site, and it's completely easy to understand metrics.
Domain Overview: After the first click, you get the overall website performance and the domain-related queries.
Keywords by Traffics: In brief, it shows the traffic from the organic search result by keywords and the positions of each keyword. Also, it has a full-fledged inside of Ubersuggest.
Backlinks: How many backlinks have that particular site, and how many sites are referring to this domain, total backlinks including do follow and no follow—everything you can see using the next tab of this tool.
SEO Analyzer: It will analyze the whole web page and provide the result insight of this extension without signing into Ubersuggest and pasting the URL into the SEO audit field.
2. Ahrefs SEO Toolbar: On-Page and SERP Tools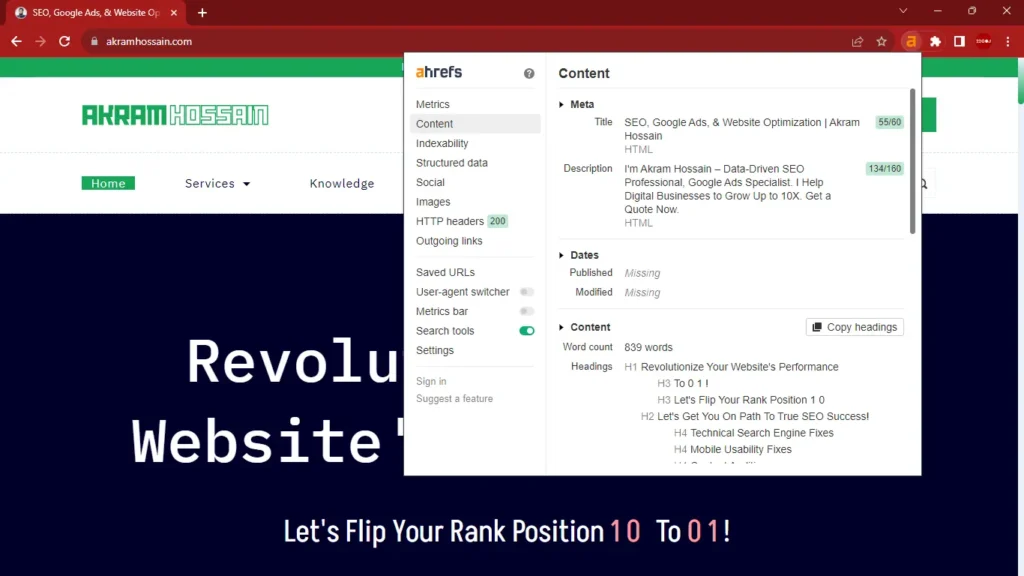 Ahrefs SEO Toolbar is the gem of on-page SEO audit, and it helps to audit a single page without auditing the whole site.
Even, though you don't have to wait for long, with a single click, it presents the whole On-Page SEO data in front of you.
TL;DR:
Total Users: 200,000+
Category: Productivity
Average rating 3.5 out of 5, rated by 150+ users.
Don't need to open a free/paid account on Ahrefs; you can even use all the features of this tool effectively.
Metrics: Give you the core web vital result of that page, and you can get the idea to improve your Core Web Vital metrics.
Content: Just one click, get this page's meta title and meta descriptions, and see the character limits of these.
It even provides the H tags data and the whole word count of this particular page.
Indexability: Much more important for any site is that you can see the canonical URL and status, robots.txt status, sitemaps, and other essential data that helps you rank effectively without any hidden issues from the site's end.
Structured Data: Schema Markup is important to tell Google and search engines the exact format and purpose of this page. This tool can help you to see the Structured Data that has already been implemented on this page.
Social: See the open graph tags data of your site that helps to keep brand image shining while sharing on social media and also see the Twitter Card (Didn't claim X card till now) data for Twitter (X) sharing.
Images: Get all of these individual pages' images and see the titles, Alt, and URL of these images. You can even filter out by missing Title or Alt.
HTTP headers: When you have any issues with HTTP headers, you can see them here.
Outgoing Links: You don't have to find the outgoing links from any page; it helps you to find the outgoing links for this page, and you can even explore with a single click.
Other essential features help you fully optimize your site's on-page SEO without hiring someone or completing your On-Page SEO.
3. Checkbot: SEO, Web Speed & Security Tester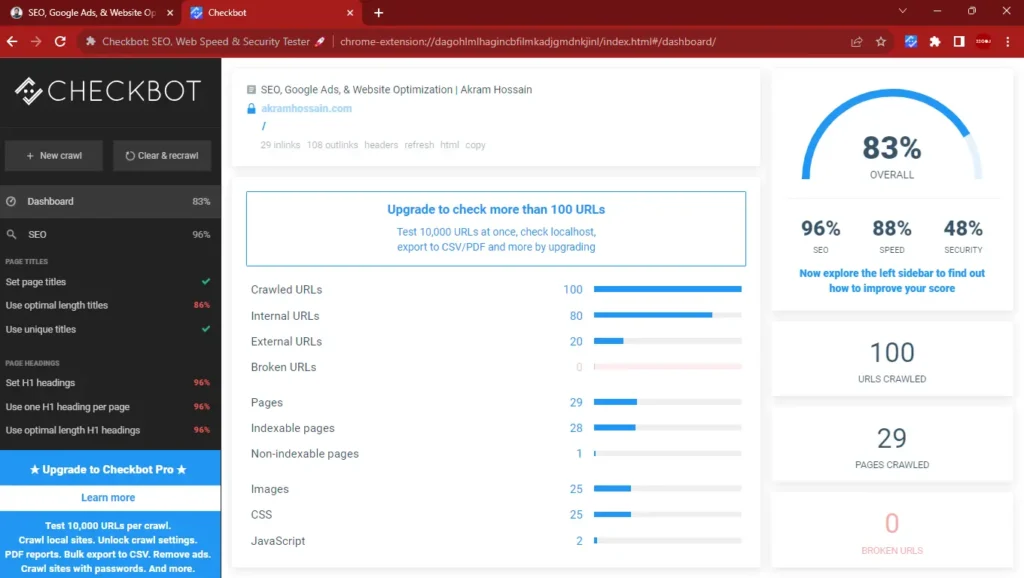 Checkbot makes site auditing fun with its single-click auditing feature, where you just enter your site URL and wait for a while.
Boom! You will get the result of your whole site for SEO and overall site security, speed, and others.
TL;DR:
Total Users: 80,000+
Category: Developer Tools
Average rating 5 out of 5, rated by 850+ users
We usually won't cover up the front-end data where HTML and CSS are the issues with your Core Web Vital result. Here, Checkbot provides thorough technical data on your site.
They even provide security measurement stats.
Page Titles: It will analyze the whole pages (limited for free users) and give you the whole title, length, and URL overview at a glance.
Page Headings: The H1 tag is always important on a web page; using Checkbot will analyze the H1 headings; the H1 tag uses one per page, the length of headings, and other essential data.
Page Descriptions: Same as H1 heading analyzing, it will analyze the meta descriptions and give you insightful data so that you can change or optimize to get more potential traffic.
Duplicate Content: This is an important feature for big sites; you can analyze the canonical URLs from here and avoid the duplicate content that prevents you from Google indexing and ranking.
Page Content: Same as Ahrefs SEO Toolbar, Checkbot also provides the same content for your page, such as thin content pages, image ALT text, mobile scaling, and avoiding plugins to optimize web pages for mobile devices.
URL Names: It's a kind of URL structure of your whole site, and you get the whole insights of your URL structure of the whole site in a single page.
How long are your URLs, parameters, and symbols in URLs, lowercase, uppercase, and deeply nested issues? You can find out.
Code Validation: Code validation is important for the Technical SEO aspect, so Checkbot analyzes the HTML, CSS, and JavaScript code to make you 100% qualified for the Technical SEO.
Links: Analyze your site's 404 or broken links external or internal broken links as well.
Robots.txt: See the robots.txt and sitemaps validations with errors.
Redirects: If your site has any redirection issues, you can identify them from here.
4. Detailed SEO Extention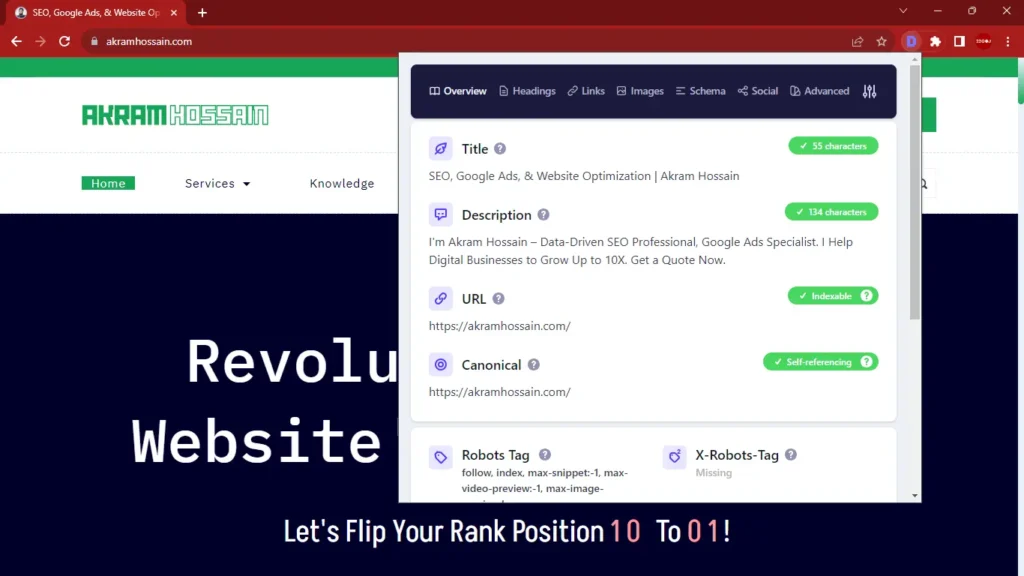 Get detailed information about any webpage with a single using this Detailed SEO. Also, it allows us to explore the missing information that is necessary to get higher ranks.
You don't know how we missed the essential information we need to optimize our sites technically.
TL;DR:
Total Users: 100,000+
Category: Developer Tools
Average rating 5 out of 5, rated by 94+ users
Detailed SEO Extension is a limestone that makes it easier to analyze optimized data with ease.
Let's have a look;
Overview: Get the overview of the meta title, meta description, canonical URL, Robots.txt data, total heading, and more at a glance.
Also, it shows the total words on this page and the Structured Data information.
Headings: Grab the whole headlines in a single click and identify the structure of on-page headlines. It helps to reoptimize and correct the formation of H tags.
Also, you can copy all of the headlines with a single click.
Links: Check the whole links of this page from the "Links" section, showing the total links, unique links, and internal and external links.
You can explore these links in CSV format.
Images: No need to inspect and find the URL for an image and then download. Now, it's simple to download the whole images of this page from the "Images" tab, and it's super easy.
Schema: Important for search engine crawling, and if you have any scheme markup on this page, it will show here with hreflang tags.
Social: It shows the Open Graph (Facebook) and Twitter card metadata while sharing this site URL on Facebook and X.
5. FATRANK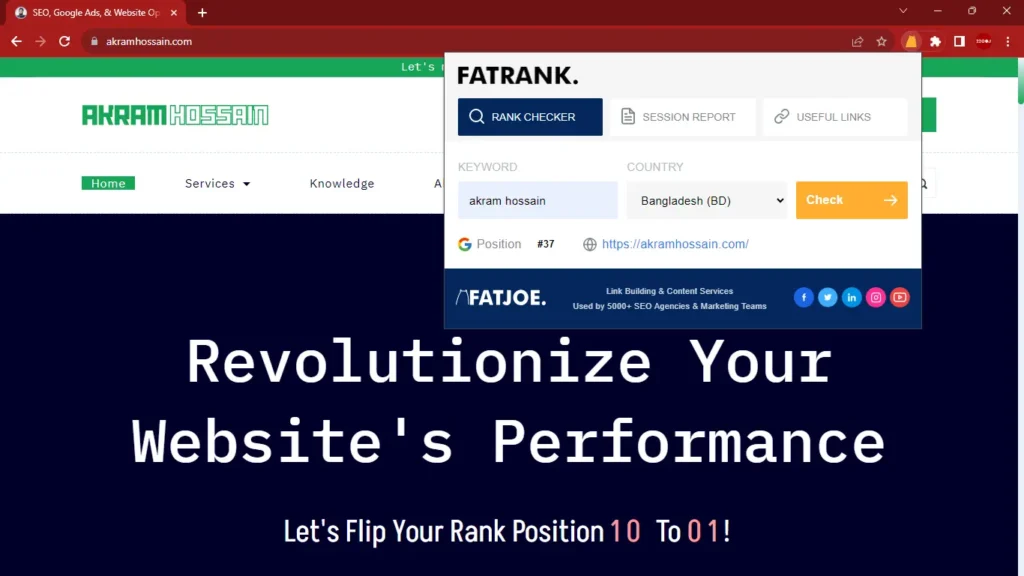 FATRANK is a real-time SERP rank result-checking tool that allows one to check the rank position for any keywords based on any country.
FATRANK isn't very popular at all, but it's super helpful to check the ranking position of your desired keywords with a few clicks.
TL;DR:
Total Users: 70,000+
Category: Developer Tools
Average rating 4.1 out of 5, rated by 210+ users
You don't have to audit the whole website or audit multiple times for different keywords.
Super simple makes it easier to check;
Click on the FATRANK extension
Enter your focus keyword
Select the targeted country
Click the check button.
You do not need to pay for this extension to check your current ranking position. Isn't it amazing?
Should You Use All of These SEO Extensions?
It depends on your needed data; you don't have to install all these tools simultaneously. But these can help in various ways to explore your on-page SEO and optimize for the highest ranking.
But these fives are really useful to extract the issues and errors for any pages with a click, and no need for much explanation here.
Conclusion
Using the extension is like deepening the French Fry in the mayonnaise. The extension helped me greatly on this occasion to analyze and fix the on-page SEO.
Depending on your needs, I recommend using these for different purposes;
Ubersuggest: It helps to show the website traffic, as I mentioned above, and it's necessary to analyze any website initially.
Ahrefs: Another useful extension that makes it easier to understand the on-page SEO information at a glance.
FATRANK: Easily helps you to see the rank position of focus keywords without visiting any extra tools.
These three tools are used for anyone concerned about their SEO and blogging career.